Cast Iron Lapping Plates are extensively used for accurate hand-lapping of ferrous and non-ferrous parts to obtain a perfect surface form & flatness
Cast-iron surface plates are now frequently used on production floors as a tool for lapping granite surface plates to achieve certain grades of accuracy. The metal allows itself to be impregnated with the lapping media over a large flat surface.
The surface can be plain flush surface for lapping, marking and layout operations. Also top surfaces of these cast iron plates can be designed with T-slots, threaded holes for purpose of clamping workpieces.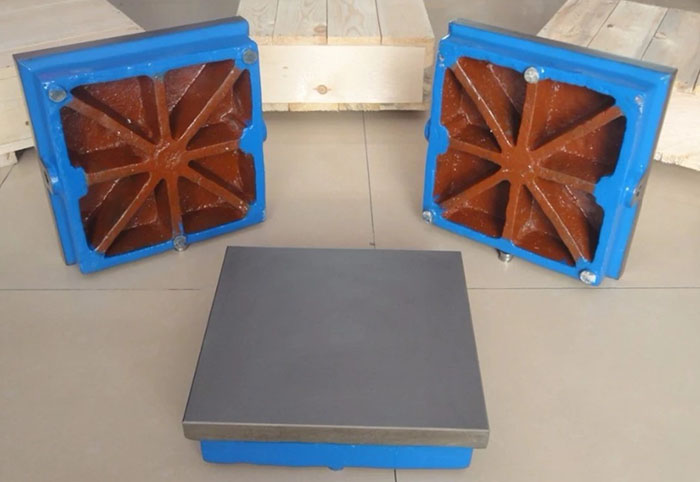 Our wide range of Lapping plates are manufactured using good quality raw material. These lapping plates are used for precision lapping of components of various sizes. These components are lapped using lapping powder of different grits to achieve finish and accuracy.
These cast iron lapping plates are made of high-strength and close-grained gray cast iron available at Grade of GG-20, GG-25 or GG-30 on request. Also it can be made of cast steel. The lapping plate hardness is in the range of HB170-240. Cored and ribbed construction, twice annealing heat treaments at a temperature in the range of 600-700° C (the 1st annealing is done right after casting, the 2nd annealing is done right after the rough machining on the plate) and the following aging treatment are adopted on the plate to relieve the stress, ensure high stability and maintain its long-time accuracy free from distortion. These plates are necessary tooling base plates widely used in workshops.
OEM/ODM available
Your logo on the product.
 Customized product according your drawings.
 Any your idea on product we can help you to design and provide drawing.
After-sale Service
 All products will have been strictly quality checked in workhouse before packing.
 We can take over the mounting or clamping activities or mounting plan.
 We provide the finished project report.Including Contract,Drawings,Quotation Sheet,Proforma
 Invoice,Technical Description,Manufacturing Progress Control Schedule,Test and Inspection
 Reports,B/L, Insurance, Commercial Invoice, Packing List, Certificate of Origin.